South Florida Celebrity Fest
2018 Theme ~ Presidents & Professionals "Speakeasy Attire"
Influencer saver tickets - buy in advance and share on social media:
$25.00 before Feb 17th

$30.00 GENERAL ADMISSION TICKET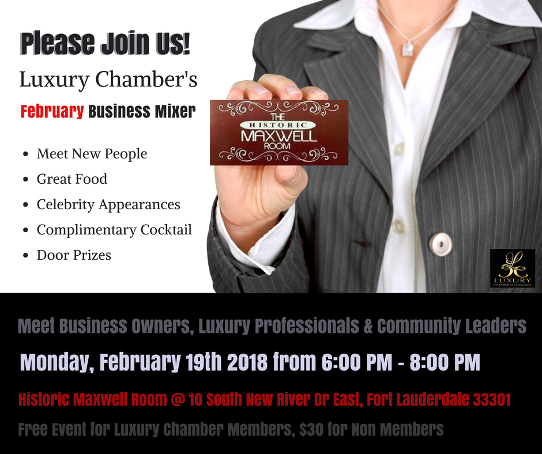 Join Luxury Chamber and your host:
Ron Rafael Shimshilashvili
along with local celebrities and notable business people. Guests will enjoy:
Complimentary Cocktail
Hors d'Oeuvres
Door Prizes
Photo & Video Opps
Autograph Signings
Quality Business Networking
Black-Tie Optional, Black, White & Red Cocktail Theme, Vaudeville or 1930's Speakeasy Attire Recommended : Think "Pinstripes"
Maxwell Room Banquet Room
10 So. New River Drive East
Fort Lauderdale, FL 33301

*Luxury Chamber reserves the right to refuse service to anyone for the purposes of maintaining a professional event environment.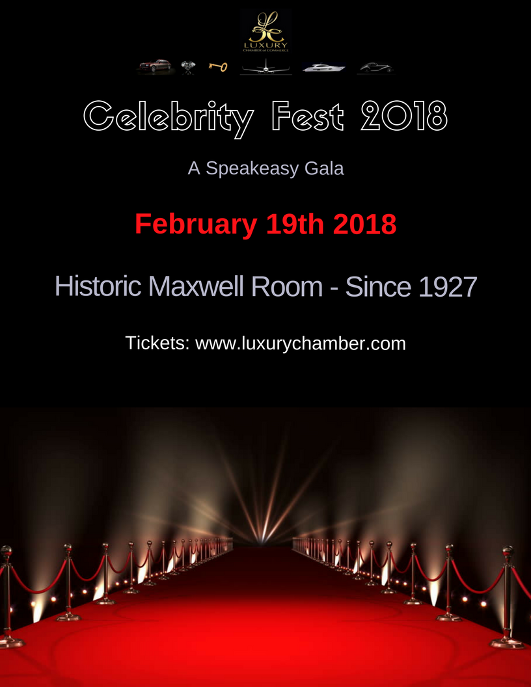 Looking for tickets and info for the March 2018 Palm Beach Harley Event? Click the Wheels, Wings & Waves Logo Above
Technical Details about this months Luxury Chamber of Commerce event:
Event Name: Sharing Green Holiday Soiree
Date: Thursday December 14th 6-9:30 PM
Charity Benefactor: Childrens Home Society & JNF 501(c)3
Expected Attendance: 100-250
Event Venue: Green Dermatology & Cosmetic Center
Venue Owner: Dr. Jason Green
Year Founded: 2010
Neighborhood: Deerfield Beach East of I-95 in the Deerfield Beach Beach Professional Center
Charities & Foundations in the area:
Florida Human Society
B'nai B'rith Apartments
4 Girls Foundation
American Friends of the Berlin State Opera
Canadian American Chamber of Commerce Florida
Florida Standardbreed Breeders and Owners Assn.
Jordan Zimmerman Family Foundation
Alfred and Rose Miniaci Foundation
Amaturo Family Foundation
Billfish Foundation
Florida Turkish Center Foundation
Friends of Birch State Park
Fritch Foundation
Gore Family Memorial Foundation
Gulfstream Philanthropic Foundation
Gupta Foundation
Habitat for Humanity International
Harry Mangurian Foundation
Sharon Mansour Family Foundation
Nancis Animal Rights Foundation
Save the Sea Turtle Foundation - National
Patricio Andrade Marin Charitable Foundation
Robert O Law Foundation
The Campbell Foundation
Turock Family Foundation
Women & Wishes
Ahavas Yisroel Fund
Brillembourg Ochoa Family Foundation
Chamber of Commerce Miami Beach
Contemporary Arts Foundation
Jack Widrich Foundation
Fourlin Memorial
Friends of the Bass Museum
Harvard Business School Club - South Florida
Holocaust Memorial Committee Inc.
In Trust for All Foundation
Jewish Federation Housing
Villa Matti Inc.
Miami Beach Community Development Corp
Miami Beach Housing Initiatives
Miami City Ballet
Michael G Callas Charitable Trust
New World Symphony
Nina & Ivan Selin Foundation
Omayra Amaya Flamenco Dance Co.
Paul & Elise Blum
South Florida Art Center
Tao Jones Charitable Foundation
The Batchelor Foundation
Hawn Foundation
The Zyman Foundation
Wendy Holman
Whitman Foundation
Boca West Community Charitable Foundation - Arthur Adler
Aline & Leo Jacobson Foundation - Tania Koolik
Charles & Nancy Rosenblatt Foundation
Congregation Shaarei Kodesh - Bernard Lipsitz
Daniel & Harriet Freed Foundation - Caryn Levison
Huizenga Family Foundation
Janower Family Supporting Organization - Don Janower
JMZ Charitable Foundation - Judith Zachs
Make a Difference Foundation - Susan Glasser Firestone
Marjorie Tallman Educational Foundation - Roberta Lobel
Sheltering Palms Foundation
The Schlanger Family Foundation - Norman Schlanger
Event Sponsor Deck: Coming Soon
Event News Release:
LUXURY CHAMBER of COMMERCE
©
2009 - 2020 All Rights Reserved