LUXURY CHAMBER - LOS ANGELES CHAPTER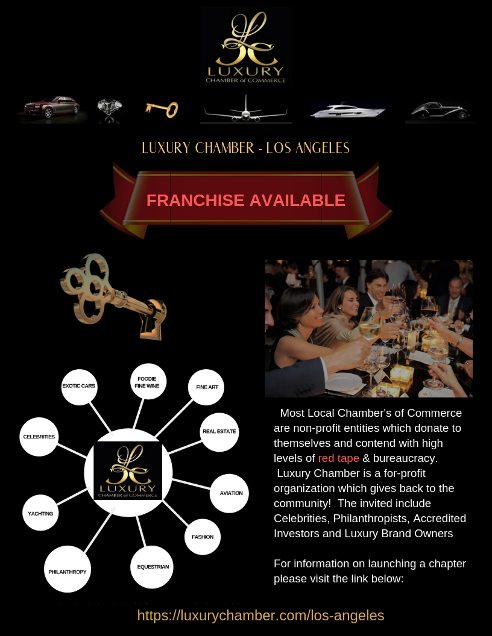 Are you a celebrity, philanthropist, or luxury brand owner who resides in Beverly Hills or Greater Los Angeles and enjoys entertaining and hosting cocktail parties?
If so Luxury Chamber - Los Angeles is the perfect fit for you. Luxury Chamber of Commerce is a business and socialite networking organization which unites purveyors of luxury goods and services with polite society and local non-profits. Once per month we host a uniquely themed networking soiree at local mansions, on board yachts, at film studios, exotic car dealerships, hangar parties and much more.
Local chambers of commerce serve a much needed function in the community in which they serve however they generally operate as a non-profit donating to themselves. The non-profit business model creates a hefty amount of red tape thus oftentimes leaving the chamber in a quagmire with respect to creating eccentric and or fun events for their members. They also accept membership from anyone who is willing to pay so you might not be rubbing elbows with the people who would even appreciate your conversation and benefit your business.
Luxury Chamber operates as a for-profit entity. We are currently in the process of going nationwide so our affiliate franchised chapters will benefit from the national and other chapters around the country. Members who join can attend events in other cities. The national chapter also helps the local chapters with marketing, education and event assistance.
The Founders position for the Beverly Hills Chapter is currently available for a $5000 investment. Please see the pdf file below for more information.
LUXURY CHAMBER of COMMERCE
©
2009 - 2020 All Rights Reserved
LUXURY CHAMBER of COMMERCE
©
2009 - 2020 All Rights Reserved
Copyright Luxury Chamber of Commerce