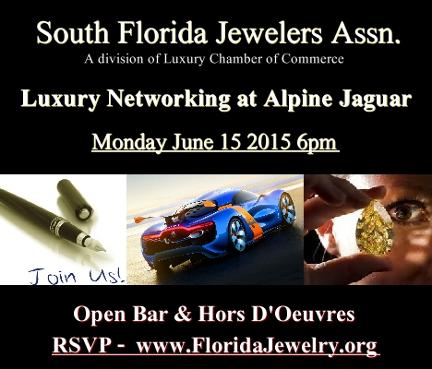 Welcome to South Florida Jeweler's Association. We are a newly founded division of Luxury Chamber of Commerce catering to the needs of Jeweler's in the South Florida Region. Along with our sister org we plan to host business networking events at local Jewelry stores and other luxury venues throughout the tri-county area including: Worth Ave in Palm Beach, Mizner Park area in Boca Raton, Las Olas in Fort Lauderdale, Bal Harbour Shops and Miracle Mile in Coral Gables. SFJA will launch on Monday February 19th at Maxwell Room. Until then please like us on Facebook and join our mailing list!
Please Join Luxury Chamber of Commerce as we launch our Jewelers Networking Division South Florida Jewelers Assn at Alpine Jaguar on June 15th 2015 6-9pm
-Luxury Level Business Networking - Jewelers, CEO's & Luxury Purveyor's
-Hors d'Oeuvres
-Complimentary Adult Beverages (open bar)
Dress Code: Business Attire
Time: 6-9p.m.
Investment: FREE for Luxury Chamber & Jewelers Assn Members or $25.00 CASH ONLY at the door!
*Limited Number of Advance Discount Tickets Available
Address: 6606 No Andrews Ave, Fort Lauderdale, FL 33309
LUXURY CHAMBER of COMMERCE
©
2009 - 2020 All Rights Reserved