Champagne Wishes and Caviar Dreams - July 16th 2018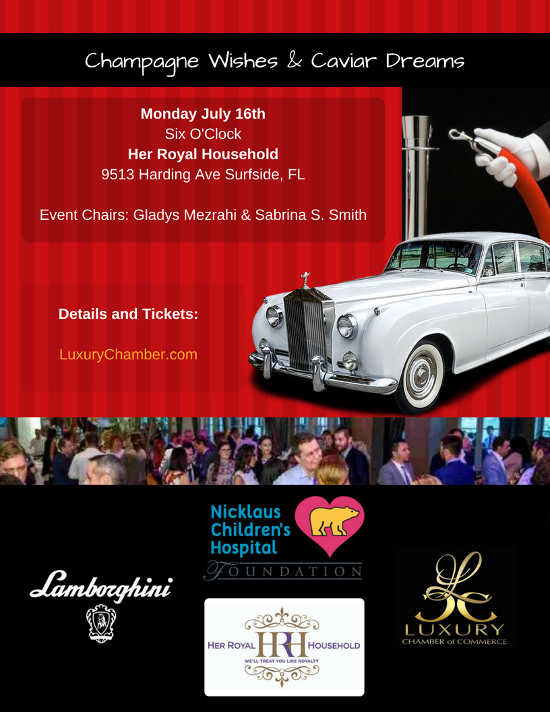 Your presence is requested on Monday July 16th at 6 O'Clock pm as Her Royal Household is inducted into Luxury Chamber of Commerce. Guests will enjoy:
Sample Lamborghini Champagne

Canapes

Wine, Cheese and Caviar

Meet Local Notables and Dignitaries

Learn About Fine China and Proper Place Settings

Luxury Level Business Networking

Best Dressed Brit - Prizes and Door Prizes
Champagne Wishes and Caviar Dreams
A Fine Socialite Networking Affair with Luxury Chamber & Nicklaus Childrens Hospital Foundation 501(c)3

July 16th at Her Royal Household 9513 Harding Ave, Surfside FL 33154
Event Chairs: Jay Shapiro - Gladys Mezrahi - Bera Kalhan - Sabrina S Smith
Surfside, FL, – Luxury Chamber of Commerce is pleased to announce a networking event taking place at Her Royal Household; a distinctly British retail boutique featuring Wedgewood China and opulent home furnishings located in Surfside, FL adjacent to the Bal Harbour Luxury District.

The event will present an opportunity to network with purveyors and consumers of luxury goods and services as well as fashion designers, local notables and even some British expats.
Event attendees will a enjoy complimentary Lamborghini brand champagne as well as paired British canape's and or tea. Learn about fine china and formal British place settings. See royal wedding artifacts on display. Meet British delegates and possibly Consul Generals from other countries as well.
Patrons will know they have done the right thing by attending as a percentage of proceeds goes directly to Nicklaus Children's Hospital Foundation which is a 501(c)3 organization supporting the hospital for children battling the worst disease that our youth could ever face.
Suggested Attire is Summertime Business Casual - Light Colors
Contact: Jay Shapiro, President / Phone: 561-376-0033
Email: jshapiro@luxurychamber.com
The event takes place from 6-9 pm.
Learn more about Her Royal Household: www.herroyalhousehold.com
Luxury Chamber Members attend FREE, to become a member visit:www.luxurychamber.com

More information about Nicklaus Childrens Hospital Foundation: www.mchf.org
LUXURY CHAMBER of COMMERCE
©
2009 - 2020 All Rights Reserved
LUXURY CHAMBER of COMMERCE
©
2009 - 2020 All Rights Reserved